BAYFIELD AND AREA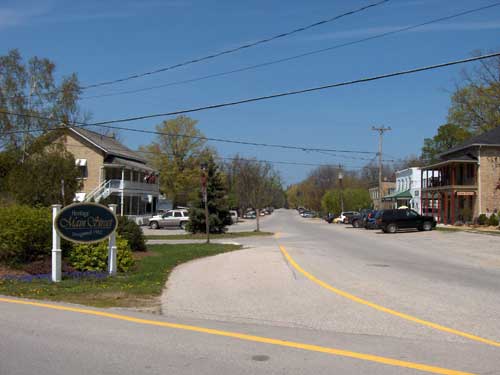 Historic Bayfield downtown is a great place to visit and shop or have a meal
in one of the wonderful restaurants. In the summer the streets are busy with
visiting tourists and outdoor patios and at night the town comes alive
with pubs and live music. Bayfield is well-known for it's fantastic sunsets
and hosts a large contingent of sailing and power vessels in the 4 marinas
on the river. Whether you enjoy shopping, strolling, walking the beach,
fishing off the pier, or SAILING, everything is available here
in Bayfield, including some very well respected eating establishments.
Just 10 MINUTES NORTH of Bayfield is Goderich and
10 MINUTES SOUTH is Grand Bend,
both interesting
and thriving lakeside towns to visit.
Around Bayfield:
Local Conservation Areas for hiking or walking can be found
at this site.
Pinery Antique Flea Market, just south of Grand Bend, is a great spot for
finding antiques and interesting items every Sunday during the summer.
Out of the Blue...Fish and Seafood Market on Hwy. 21 in Bayfield
Bluewater Golf Course for those golfing enthusiasts is
located just north of Bayfield.
Accommodations:
The Little Inn, located on the Main Street in Bayfield
offers luxury accommodations in an historic setting as well
as being a well known eating establishment.
The Albion Hotel, offers a local pub atmosphere and
is a country styled favourite for accommodations and good food
on the Main Street In Bayfield

Bayfield Village Inn , located just north of Bayfield, offers
accommodations and services to tourists.
Bluewater Shores Lakefront Resort, located north of Bayfield,
offers relaxing and enjoyable resort cottages.
Deer Park Lodge is a beautiful resort located on the Lake Huron
shoreline just north of Bayfield.
MacGougan Manor Bed and Breakfast is centrally located in Seaforth, only
a 20 minute drive to the beaches at Goderich and
Grand Bend,and to the Shakespeare Festival at Stratford,
and to the marina at Bayfield.
Restaurants:
The Black Dog Village Pub and Bistro on the Main Street in Bayfield
offers warmth and character featuring the very best in quality
local food prepared with simplicity and style.
The Red Pump on Main Street across from the Little Inn, excellent food,
dining, bar and bistro available.
Marinas in the Area:
Harbour Lights Marina north of the river , is one of the
largest marinas in Bayfield. Ammenities include, swimming pool,
tennis courts, firetruck into town and private beach.
Southshore Marina is located on the south shore by the bridge in Bayfield
Bayfield Village Marina is located on the south shore of
the river in Bayfield.
Local Businesses:
Canada Site Furnishings supplies exterior benches, tables, bike racks,
parking bollards, planters etc. and is based in Bayfield
Bayfield Marine Services is located north of the river and
offers marine equipment and service.